Depression & PTSD treated OFF Label with Nitrous Oxide (Laughing Gas)
Nitrous oxide, often known as "Laughing Gas" and administered under the brand name Pro-Nox, has long been associated with pain relief during dental procedures and childbirth. However, recent groundbreaking research has unveiled a new frontier for this gentle and safe gas – the treatment of depression and post-traumatic stress disorder (PTSD).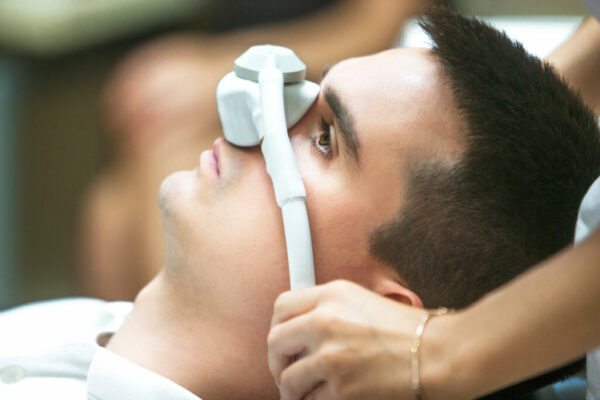 The Power of Nitrous Oxide
Nitrous oxide offers a unique therapeutic approach for individuals battling Treatment-Resistant Depression (TRD) and the debilitating effects of PTSD. In a 2021 study led by Dr. Peter Nagele and his team at the University of Chicago, Pro-Nox showed remarkable results. Among severely depressed patients with TRD, 85% responded positively to just a one-hour exposure treatment every four weeks. This groundbreaking discovery is offering hope to those who have struggled with depression for years.
A Gentle Approach
One of the standout features of Pro-Nox is its gentle nature. Unlike other treatments, there are no needles or invasive procedures involved. Patients inhale the gas through a mask, and within minutes, they enter a dreamlike state. They remain conscious, allowing them to communicate with their healthcare providers throughout the session.
Rapid Relief
Perhaps the most remarkable aspect of Pro-Nox treatment is the speed of its effects. Relief from symptoms often occurs within 1-2 hours, a stark contrast to traditional antidepressant medications that may take weeks or even months to show benefits. Moreover, the safety profile of Pro-Nox makes it a viable option for teenagers and children, particularly when combined with Cognitive Behavioral Therapy (CBT).
Beyond Depression and PTSD
Researchers are also exploring the potential of Pro-Nox in addressing other mental health challenges, including alcoholism, addiction, and PTSD. Its safety and rapid impact make it an intriguing option for these conditions.
Discover Hope Today
The use of nitrous oxide, particularly through the Pro-Nox brand, represents a promising and safe frontier in managing and improving the symptoms of depression and PTSD. Dr. Peter Nagele's research has shed light on its efficacy, offering hope to those who have long struggled with these conditions. If you or a loved one are seeking relief from the burdens of depression or PTSD, don't hesitate to take the first step toward a brighter future. Contact Kentuckiana Integrative Medicine today for a consultation and discover how our compassionate team can help you better manage and improve your quality of life.
References:
Nagele P., Palanca B.J., Gott B., Brown F., Barnes L., Nguyen T., Xiong W., et al. (2021 Jun 9). A phase 2 trial of inhaled nitrous oxide for treatment-resistant major depression. Sci Transl Med. 13(597):eabe1376. doi: 10.1126/scitranslmed.abe1376.