Depression, Reactive Depression, Post-partum Depression, Bipolar Disorder, PTSD, OCD, Anxiety Migraines, Fibromyalgia, Chronic Pain, Neuropathic Pain, and CRPS Reversed with Ketamine.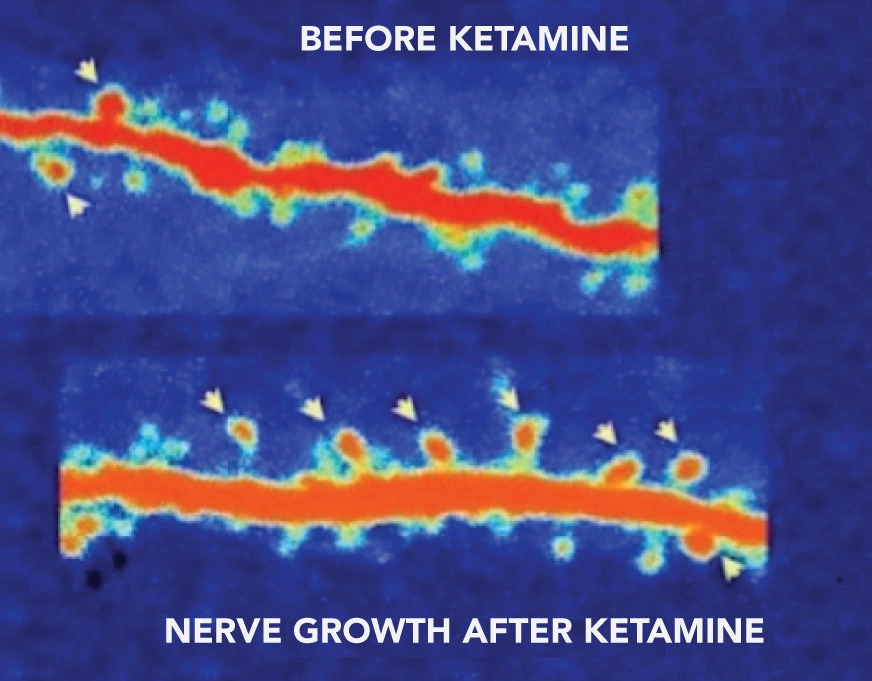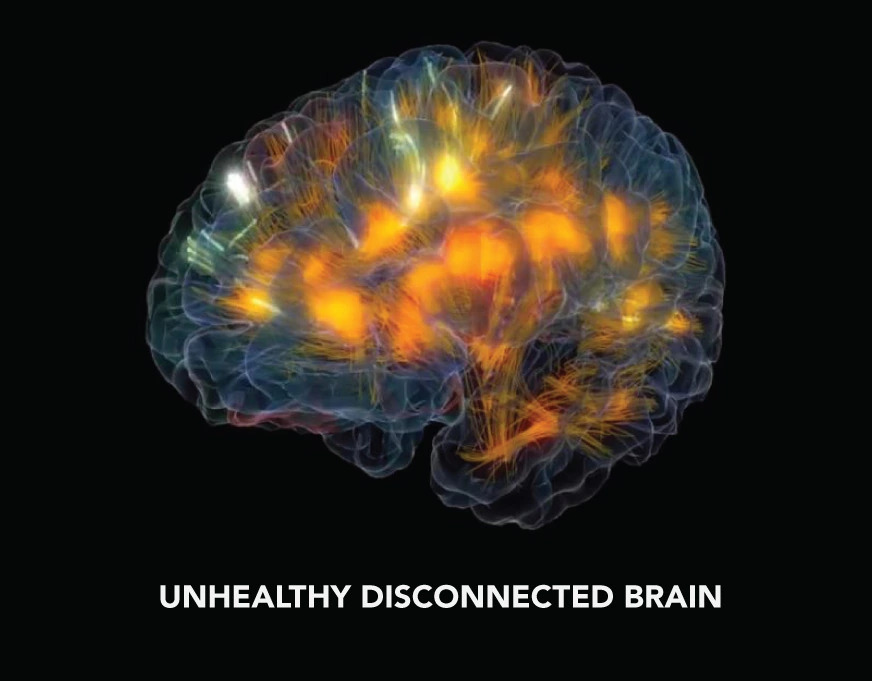 "Ketamine, given intravenously, might be the most important breakthrough in antidepressant treatment in decades."

Thomas Insel – Director, National Institute of Mental Health
Our patient, Leslie, discusses severe depression and anxiety, successfully treated with Ketamine after many years of suffering. 
WHY CHOOSE KENTUCKIANA INTEGRATIVE MEDICINE-KENTUCKIANA KETAMINE INSTITUTE?
Philosophy & Proprietary Therapies offered by no other clinics that we know of:
We believe that our proprietary 5R approach has the capacity to Reset Reconnect Recharge Replenish and Realign your Mind, Spirit and Body through a multitude of treatment approaches that have dramatically improved our treatment success. Our proprietary blends contain ingredients proven to benefit the body especially the nervous system, brain and mitochondria [the mitochondria are the powerhouses that make ATP or energy.] Numerous PubMed and NIH research studies demonstrate the benefits of Magnesium, B Vitamins, Vitamin C, Ozone in assisting the body's own self-healing mechanisms and they do not require double blind placebo control studies. Evidence based medicine proving benefits in patients through concrete data represents powerful science. 
SAFETY: Instead of a Nurse practitioner or Nurse anesthetist your treatment is always provided by an extremely experienced physician who used Ketamine extensively during his work in Emergency Medicine and Anesthesia. Dr. Cruz has over 25 years of clinical experience and is a leader and educator of Integrative Medicine. You are thoroughly monitored with 1:1 attention. In 5 years we have had no serious adverse effects, but we are fully prepared with defibrillator, advanced airway equipment and medications to control blood pressure and heart rate and any other rare side effects.
EXPERIENCE: Kentuckiana Ketamine Institute is one of the most experienced clinics in the area [in 3 neighboring states. In Kentuckiana, we were first to introduce Ketamine for Mental Health problems, Addictions  and CRPS – Complex Regional Pain Syndrome with over 8 years of delivering care 24/7 as opposed to the part-time Ketamine services offered by other clinics.
QUALITY: Your treating physician is not only clinically very experienced [25 years in practice]; he has experienced severe depression personally and will compassionately share with you the additional tools and skills you need to not need ketamine as you conquer your pain and emotional and mental health challenges. You will be provided with a comprehensive program that will help you get the most out of your ketamine therapy. Very few clinics provide these additional tools and strategies.
COMFORT: Private beautiful rooms with blankets and complete monitoring. Dr. Cruz's medical team has been personally trained by him and they are caring, compassionate and very skilled at IV therapy. You will be in private spa-like room with heated, massage, lazy boy chairs with continuous monitoring and nearby private bathroom. Soothing meditation music, warm blankets and our pet soft fuzzy stuffed bear and dog "Sunny and Share" are available to lay next to you.
ADVANCED THERAPIES: Our IV department offers a multitude of other advanced treatments such as IV Vitamin C, IV Chelation, IV Plaquex, IV Myers Cocktail, Bone Marrow Stem Cell Therapy or Umbilical Cord Wharton's Jelly Stem cells as Regenerative Medicine Therapies.
COGNITIVE BEHAVIORAL PLAN that is extremely powerful, effective, easy to implement for BOTH patient and family.
FINANCING AVAILABLE through multiple LENDERS. [Perfect credit score not required]
PERSONALIZED TREATMENT PROGRAMS TO SUIT ALL NEEDS & BUDGETS
TREAMENT TEAM
-Counseling available via referral to our team of psychologists and psychiatrists if wanted
-Can be done via telemedicine. [Additional charges apply.]
-Dr. Navene Thomas – Board Certified Psychiatrist
-Dr. Robert Churchman ND
-Andrea Loop Counselor and Addiction Specialist
-Sandy Meyler Counselor- Social Worker MSC
HOW DO OUR TREATMENT APPROACHES COMPARE TO OTHERS?
Our treatments are generally 80-90% effective depending on program selected. Results vary and no guarantee of success is made. We have had only 5 treatment failures in 5 years and these patients told us every day the treatment would NOT work.  Remember we speak our world into existence.
Note: "Ketamine is the most important breakthrough in antidepressant treatment in decades."
Tom Insel Director of the National Institute of Mental Health
MAJOR DEPRESSION TREATMENTS
Our Proprietary 5R Approach *Reset *Reconnect *Recharge *Replenish and *Realign your Mind, Spirit and Body is 80-90% Effective
Standard Ketamine Infusion 65-75% Effective
Shock Therapy ECT: 50-60% Effective
Multiple Antidepressants: 48% Effective
Transcranial Magnetic Stimulation-TMS 38% Effective
Single Antidepressant 36% Effective
Sugar Pill /Placebo 32% Effective
Fibromyalgia TREATMENTS
Our Proprietary 5R Approach *Reset *Reconnect *Recharge *Replenish and *Realign your Mind, Spirit and Body is 80-90% Effective
Lowdosenaltrexone.org 60% Effective
Cymbalata – Duloxetine 31% Effective
Lyrica Pro: 31% Effective
Savella- Milnucipran: 48% Effective
Sugar Pill /Placebo 32% Effective
Neuropathic Pain CRPS-RSD Treatments
Our Proprietary 5R Approach *Reset *Reconnect *Recharge *Replenish and *Realign your Mind, Spirit and Body is 80% Effective
Bone Marrow Stem Cell Prolotherapy Prolozone 70% Effective
Neridronate Equivalent 65-70% Effective
Lowdosenaltrexone.org 60% Effective
Neuro-stimulator 50% Effective
NARCOTICS 30-40% Effective
Seizure Medications-Lyrica: 24% Effective
Cymbalta: 20% Effective
Migraine Treatments
Our Proprietary 5R Approach *Reset *Reconnect *Recharge *Replenish and *Realign your Mind, Spirit and Body is 80-90% Effective
Standard Ketamine Infusion 65-75% Effective
Lowdosenaltrexone.org 60% Effective
Seizure medications: 50-60% Effective
Beta Blockers: 50% Effective
Triptans 45% Effective
Single Antidepressant 40% Effective
Sugar Pill /Placebo 32% Effective
MAJOR DEPRESSION TREATMENTS
Reactive Depression
Post Partum Depression
Bipolar Depression
Our Proprietary 5R Approach *Reset *Reconnect *Recharge *Replenish and *Realign your Mind, Spirit and Body is 80-90% Effective
Standard Ketamine Infusion 65-75% Effective
Shock Therapy ECT: 50-60% Effective
Multiple Antidepressants: 48% Effective
Transcranial Magnetic Stimulation-TMS 38% Effective
Single Antidepressant 36% Effective
Sugar Pill /Placebo 32% Effective
Obsessive compulsive disorder (OCD), Post traumatic stress disorder (PTSD), Severe Anxiety
Treatments
Our Proprietary 5R Approach *Reset *Reconnect *Recharge *Replenish and *Realign your Mind, Spirit and Body is 80-90% Effective
Standard Ketamine Infusion 65-75% Effective
Shock Therapy ECT: 50-60% Effective
Multiple Antidepressants: 48% Effective
Transcranial Magnetic Stimulation-TMS 38% Effective
Single Antidepressant 36% Effective
Sugar Pill /Placebo 32% Effective
KETAMINE FREQUENTLY ASKED QUESTIONS
HOW DOES KETAMINE WORK? 
Ketamine has been shown to stimulate neuron growth in the brain in as quickly as one hour. Many physicians and scientists studying Ketamine are focusing on the neurotransmitter glutamate, which plays a key role in neural activation- nerve and brain cell activation. This neuro-chemical process is what allows for the BRAIN RESET RECONNECT and RECHARGE which is enhanced by our proprietary added therapies.
Ketamine has also been found to be a strong anti-inflammatory, pain relieving agent, which is also being studied for its positive effects with pain management. While the studies of "how" continue, the life enhancing results are seen daily at Ketamine Clinics across the United States.
HOW IS KETAMINE GIVEN? AS AN IV INFUSION or MUSCLE INJECTION or INHALED or NASAL or ORAL?
Ketamine can be administered through all of the above methods. There are pros and cons to each approach and clinicians and patients have developed their own preferences. The IV method is preferred by many since the infusion can be slowed or controlled on the rare occasion that a patient has unwanted side effects. Some patients prefer the rapid intensity of the intra-muscular injection especially once the most effective dose of ketamine has been previously established. Those with difficult veins will likely prefer the intra-muscular injection.
An IV infusion is the administration of a medication such as (Ketamine) which will be administered via an IV (intravenous line) over a certain period of time. For depression syndromes each infusion can be anywhere from 40-60 minutes. For pain syndromes the infusion time is typically 2-4 hours. Prescription nasal ketamine is cost prohibitive with a cash price as high as $1,400 PER DOSE and it is not as effective since some is swallowed or lost out of the nose. WE DO NOT RECOMMEND COMPOUNDED NASAL OR ORAL KETAMINE. We do not like long term use of ketamine orally or nasally as the long-term side effects have not been determined and we know that ketamine addicts inadvertently harmed themselves causing bladder dysfunction and other problems. Of course addicts tended to use extremely large doses over long periods of time which is completely different from how you will use ketamine under medical supervision. Equally important is that your body will develop a tolerance to Ketamine and you will not respond as effectively if used daily or with great frequency as is being mistakenly prescribed by some physicians.
ARE KETAMINE INFUSIONS LEGAL AND WHAT DOES RESEARCH STATE ABOUT THEM?
Ketamine infusions and intra-muscular treatments are 100% legal and bound to strict clinical protocols and oversight. Ketamine treatments have been used for over 20 years for anesthesia and pain control with an excellent safety profile and most recently for Suicidal Thinking, Chronic Pain, neuropathic pain, Complex Regional Pain Syndrome (CRPS), Major Depression, Bipolar Disorder [if not manic] – Post Traumatic Stress Disorder (PTSD), Obsessive Compulsive Disorder (OCD), Severe Anxiety, Post-Partum Depression and Reactive Depression to death or divorce. Ketamine in the 1990s was a "club drug" abused by some. Since then it has become the most effective and powerful tool for severe depression and suicidal thinking. The evidence-based research and positive patient outcomes have clearly established the benefits.
WHAT DO KETAMINE INFUSIONS TREAT?
Ketamine has been proven to safely treat: *Suicidal Thinking, *Reactive Depression *Resistant Recurring Depression including *Bipolar Disorder, *Seasonal Affective Disorder, *Postpartum Depression, *OCD, *Severe Anxiety, *Social Anxiety, *PTSD, *Migraine, *CRPS – Complex Regional Pain Syndrome, *Chronic Pain, *Neuropathic Pain.
****It has also been shown to have a rapid effect and impact on suicidal ideation.
Ketamine also treats *Chronic pain syndromes, and is particularly helpful in refractory *Migraines, *Fibromyalgia,*CRPS, and *Neuropathic pain. It is NOT recommended for manic phases or psychotic syndromes such as schizophrenia.
HOW SOON WILL MY SYMPTOMS IMPROVE AFTER THE KETAMINE INFUSIONS?
Many patients can feel better during the first treatment. Most patients feel the benefit by the third treatment as the ketamine dose is adjusted to the patient's individual needs. Others notice a marked improvement in mood or pain levels within hours into the next day after the FIRST treatment. Still, some patients may not notice their full improvement until their 4-6th infusion.
Patients will still have good, and bad days during or after the Ketamine Infusions- but overall improvement is usually seen following a series of 6 treatments. Patients generally find their mood is much improved and their ability to manage stress and function is enhanced. Patients with social anxiety can finally attend a family gathering after being withdrawn for years. The anxiety and depression triggers no longer trigger the traditional negative emotional cascade or "trip down the rabbit hole" as they say.
HOW LONG WILL I NEED TO UNDERGO TREATMENT?
Length of treatment is individual to each patient. The 1st treatment can relieve your symptoms for a few days. Most patients do not respond until the 3rd treatment and for best results 6 treatments are needed in close proximity. It is necessary to repeat the treatment to ensure a return to a healthy mood, or to relieve pain for an extended period. For chronic conditions, our process involves extending the period of remission, by slowly stretching out the time between Ketamine infusions, and using additional wellness techniques as an adjunct to treatments such as magnesium, and other IV therapies. These needs can differ from patient to patient. Multiple Ketamine treatments can provide relief anywhere from a few weeks to many months or more. The great majority of patients report an overall improvement in lifestyle and coping mechanisms. There is not one, standard therapy for Ketamine Infusions.
With ongoing research and evidence- protocols have been put into place for best practice. Research has shown that back to back infusions have been more effective than one single dose. This is known as the stabilization period. This period maximizes the growth of the nerve cell's dendrites & synapses. These nerve cells are called "neurons" and they grow rapidly making a massive number of new connections in the brain. Some people will have maintenance or "booster" infusions or injections after their stabilization period. Maintenance or "booster" infusions are determined on a case by case basis and by patient symptoms returning which the patients monitors weekly using depression scale.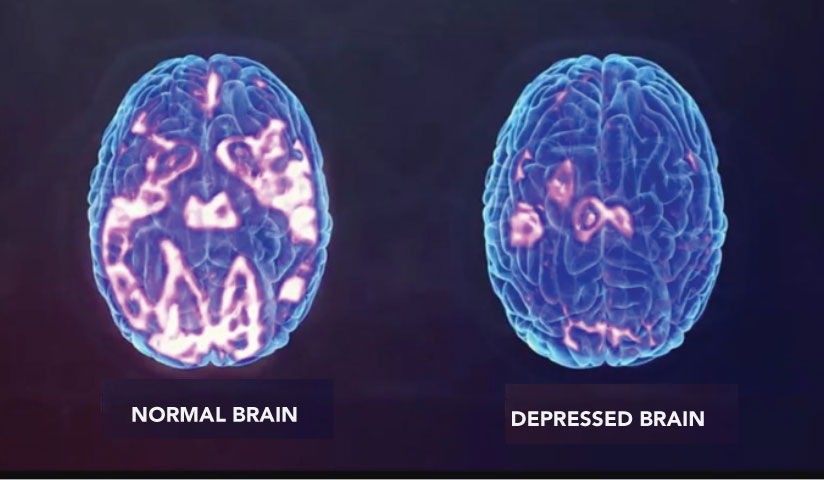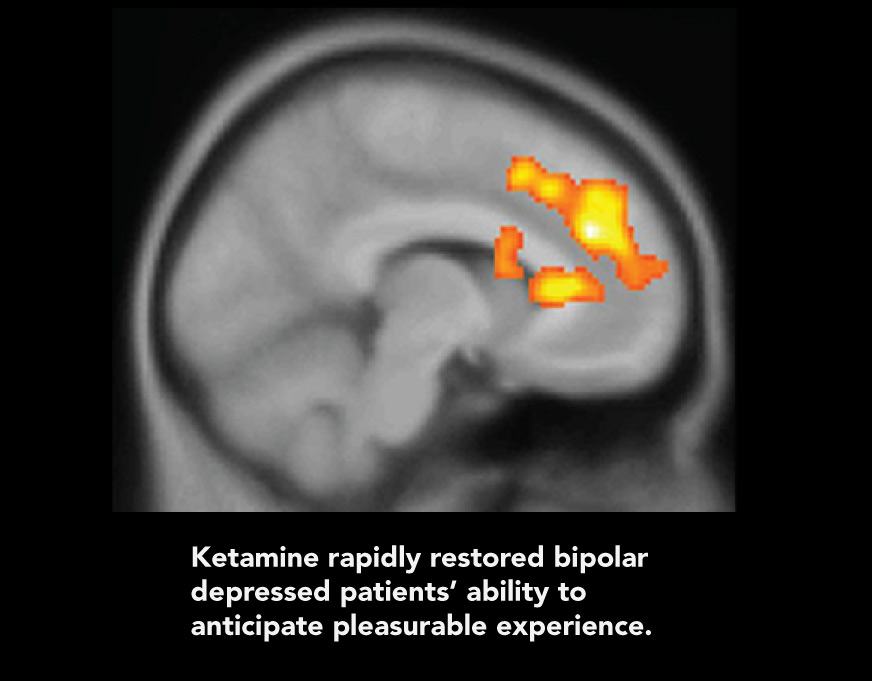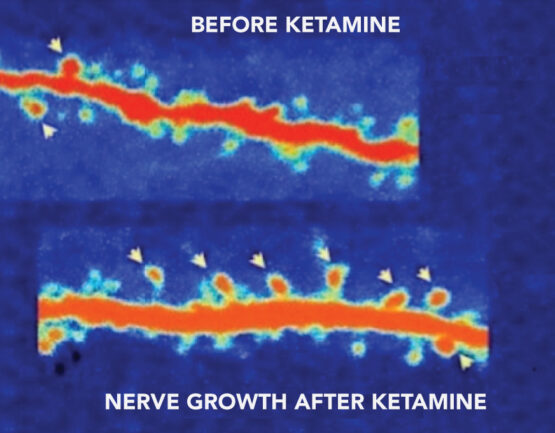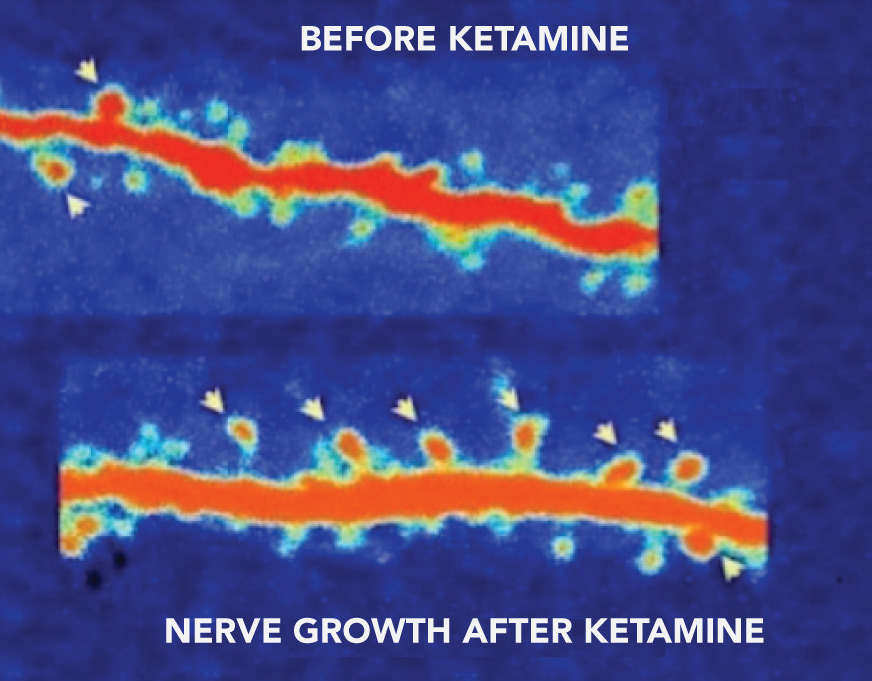 PET scan above revealed that ketamine rapidly restored bipolar depressed patients' ability to anticipate pleasurable experiences by boosting activity in the dorsal anterior cingulate cortex (yellow) and related circuitry. Picture shows PET scan data superimposed on anatomical MRI.38
Source: Carlos Zarate, M.D., Experimental Therapeutics and Pathophysiology Branch, NIMH
"Ketamine, given intravenously, might be the most important breakthrough in antidepressant treatment in decades." – Thomas Insel Director, National Institute of Mental Health 

"I had come to believe that my depression was a terminal illness. But the so-called party drug [Ketamine] may have saved my life." – Alice Levitt-Medical Writer and Editor
Each patient is different and respond to treatment varies. At Kentuckiana Ketamine Institute, we get to know each patient thoroughly and we develop an individualized treatment plan. Ketamine is a treatment and is not a cure. The success rate for depression is around 80%, and reduction in pain symptoms is around 50%. Our success at Kentuckiana Ketamine Institute is higher due to the additional services available and the FREE value added services provided at no additional charge.
HOW WILL I FEEL DURING MY KETAMINE TREATMENT EXPERIENCE?
The experience is generally very positive and pleasant. The great majority of patients feel very relaxed, uplifted and often laugh spontaneously by the end of treatment which last approximately 1 hour depending on condition treated. The experience is different based on the dosage, speed of administration, goals, genetics, pre-paving intentions and past trauma. At higher doses people feel like they are: "floating", "leaving my body", "floating over my body," "connected to God," "I know why we are all here," "I know my purpose in life," "felt like I was dying and then I thought if this is death it is not so bad."" I was so peaceful and relaxed", "My tension or my anxiety or my pain was completely gone for the first time in years". "I was hallucinating with very powerful vivid, colors and movement, the walls were shifting, "My whole body was vibrating with incredible energy," "I was crying reliving some of my PTSD junk, but I feel better, less triggered…like I released it or somehow made peace with the situation, but I do not know how…?" "It was my dad he molested me, but it feels like I am letting it go and I forgave him."
Some patients relive past PTSD traumas, but they consistently emerge with the ability to not get retriggered by these disturbing thoughts. "Somehow my brain puts the breaks on and I do not go down the rabbit hole of insanity. It is awesome because before I could not stop the cycle," "I love you I love everyone"
HOW DO I GET THE MOST OUT OF MY KETAMINE TREATMENT EXPERIENCE?
Bring very relaxing meditation music and head phones. Work on your self-talk before the treatment begins. Pre-pave or preplan a positive experience. Tell yourself before and during the treatment that ketamine is healing you, helping you, that new nerve cell connections are being made in the millions, that you will be stronger more resilient. Even if you get sad or cry during the ketamine experience, you are not so sedated that you cannot speak to yourself and soothe yourself. "This scary part will be over soon. Ketamine is growing my Brain cells. It is helping me. It is over in an hour. I am safe. I hear the doctor or nurse or my loved one."
Our team and I will be right there with you if you need reassurance and a calming hand or voice. The most important aspect of long term success is following our supplement and cognitive behavioral modification program faithfully. Those who follow our program diligently frequently never need more ketamine. Those who need Ketamine rarely need it more often than every 2-6 months and thankfully with their "brain reset", they almost never need more than one treatment to "bounce" out their "slump".
IS KETAMINE SAFE?
KETAMINE IS EXTREMELY SAFE. It is the safest anesthetic used with greatest number of beneficial qualities. It controls pain, reduces memory of trauma or pain and supports blood pressure and pulse at lower doses. No other anesthetic medication offers all three of these qualities. Ketamine is actually listed as an essential top 10 medication by the World Health Organization. It is used widely in anesthesia since the 1960's- especially in pediatrics due to its safety with not reducing the respiratory drive or harming the gag reflex. While it is FDA approved for anesthesia, it is not FDA approved for pain or depression at this time. The anesthetic dosage is about 20 times the dosage used in low dose ketamine infusions- so the answer is YES- Ketamine is very safe and has a very wide safety margin for treatment. In fact the military allows their medics in the battle field to give Ketamine 50 mg every 30 minutes if needed.
WHAT ARE THE MOST COMMON SIDE EFFECTS DURING THE INFUSION?
Side effects experienced as a result of Ketamine infusions usually go away within an hour of treatment. The most commonly reported side effects include mild nausea, drowsiness, and a temporary increase in blood pressure. If needed, IV medications can be given for unpleasant symptoms. The clinical staff will closely monitor your oxygen level and heart rate throughout the course of the infusion and after the infusion. Less common side effects include vivid dreams; feeling like one is floating above one's body, temporary mood swings, crying or agitation. If these types of side effects do occur, they are controlled by adjusting the dosage of Ketamine, reassurance and they resolve quickly.
WILL MY INSURANCE COMPANY REIMBURSE THE COST?
NO. Insurance companies consider Ketamine experimental and will not pay for Ketamine treatment. Ketamine is not currently FDA approved for the treatment of depression syndromes or chronic pain, therefore, it is not covered by insurance.
WHAT DO I NEED TO DO FOR MY FIRST CONSULTATION?
Bring your current medication and supplement list along with all of your diagnosis and the name, phone and address of your treating physicians. We will only contact them with your permission. Your physician may fax or email all this information as well through our secure email or fax.
IS THERE AN AGE LIMIT FOR KETAMINE INFUSIONS?
Kentuckiana Ketamine Institute will treat patients age 18 and up as well as patients 12 – 18 years old in some cases after consultation with our physician.
HOW MUCH DOES EACH INFUSION COST AND WHY SO EXPENSIVE?
Ketamine medication is not expensive but the cost of malpractice insurance, nursing staff, proper training safety and medical personnel make this service expensive.
The cost of each infusion for depression, and chronic pain syndromes differ due to length of time, supplies and medication. The fees include the cost of medications, supplies, nursing staff, medical staff, equipment, and malpractice insurance etc.
Payment plans may be available here at Kentuckiana Ketamine Institute for those needing assistance.
Call 1-812-913-4416 for more information.
Pricing ranges from $2,300 – $6,500 for 7 ketamine treatments depending on what treatment program is recommended. Consult fee is $300.
DO I STOP TAKING ANY MEDICATIONS WITH KETAMINE INFUSIONS?
Never stop taking medications without prior authorization from the prescribing provider.
There are some medications that interact with Ketamine. These will be discussed at your initial consultation and a thorough history and medication review, along with a full examination will be done. Here at Kentuckiana Ketamine Institute – we strive to keep you safe & make sure everyone is appropriate for infusions. If you are found to be on any of the medications that interact with Ketamine infusions- we will coordinate care with your physician and discuss any potential changes that may need to be made.
IF I HAVE A PSYCHIATRIST, THERAPIST, PRIMARY CARE, OR SOMEONE THAT REFERRED ME, SUCH AS A PAIN MANAGEMENT PROVIDER, DO I STOP SEEING THEM ONCE I COME TO YOU? NO
No do not stop your medications without guidance. You are under the care of Kentuckiana Ketamine Institute and staff for the purposes of Ketamine Infusions. We do have a mental health specialist to assist with counseling and be of support to our patients as needed and to assist with screenings. This would NOT take the place of your outside psychiatrist or mental health providers. You should preserve these relationships
If you would like counseling we can assist you. We recognize that counseling support is VERY HELPFUL for many clients while undergoing Ketamine Therapy regardless of what condition you are overcoming depression syndromes or pain. Please know we will not be replacing your pain specialist, psychiatrist or counselor. Here at Kentuckiana Ketamine Institute – our goal is to work with your physicians and collaborate in your care.
IS THERE ANYONE THAT SHOULD NOT RECEIVE KETAMINE INFUSIONS?
Having the listed conditions below DOES NOT mean that you cannot receive Ketamine therapy. Correcting high blood pressure and regular follow ups with a family physician, cardiologist, psychiatrist and consultation with them before treatment is always the best way to ensure treatment will be safe and effective.
People with *Stroke or *Head injury in the last 6 months may not be appropriate candidates for Ketamine Therapy.
People with *Uncontrolled Blood Pressure are at increased risk to make this condition worse if receiving Ketamine infusions, which can lead to heart attacks and stroke. So people with uncontrolled high blood pressure, should be seen by their family doctor or cardiologist to regain blood pressure control before receiving Ketamine Infusions.
People with *unstable severe heart disease such as uncontrolled *atrial fibrillation,* *exertional chest pain, *shortness of breath, *other arrhythmia's, *rapid heart rate *congestive heart failure and *coronary artery disease may be at increased risk while getting Ketamine, as it can make the heart work and pump harder.
People with known history of Thoracic or Abdominal aneurysms should NOT receive Ketamine therapy.
People with *Uncontrolled Hyper-Thyroid Disease may be exacerbated by Ketamine Infusions due to Elevated heart rate. People who have controlled thyroid disease DO NOT fall into this category and can safely receive Ketamine therapy.
People with uncontrolled Glaucoma & Increased Intra-ocular Eye Pressure: There is a small chance of increased intra-ocular pressure with Ketamine in the surgical dosage. The dose being given here is much smaller and the risk with this dosage and intra-ocular pressure is not well known or understood. Nevertheless, if you have a history of glaucoma [increased eye pressures] you must get eye pressures controlled and obtain clearance from your eye doctor. Keep in mind some eye surgeries are performed with ketamine anesthesia.
People with current Hallucinations or Schizophrenia since Ketamine can worsen active hallucinations.
People with Active Bipolar or Manic Behavior since Ketamine may worsen active mania. Ketamine is generally very helpful to those with Bipolar disorder as long as not in a manic episode. In most cases of anxiety, Ketamine is actually quite helpful.
People with Ketamine allergies: People, who have had reactions to Ketamine in the past, would not be appropriate for treatment.
People taking Amiodarone or Droxidopa should NOT take ketamine as it could stop their heart and kill them.
People taking Lamictal / Lamotrigine, Zyprexa-Olanzapine, Respiradol – Respirodone, Valium, Xanax, Clonazepam may find Ketamine less effective or ineffective. We recommend if possible that you reduced or stop the above medications with help from your psychiatrist. [You must accept the possibility that these medications could interfere with the benefits of ketamine.] In the majority of cases, patients still benefit from ketamine.
Pregnant women should not receive ketamine unless suicidal and cleared by psychiatrist and OB-GYN.
SEE PHOTO BELOW THE DISCONNECTED BRAIN!!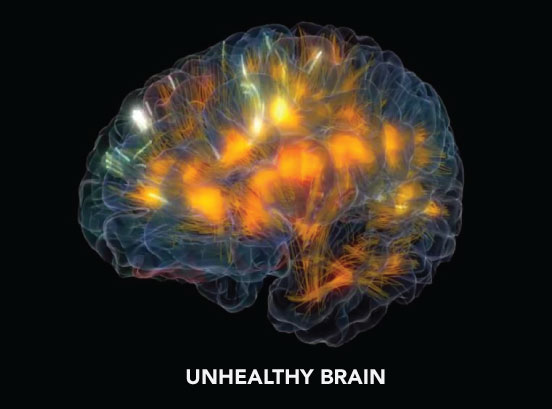 Ketamine Saves Lives.
Ketamine Restores Brain Health
Ketamine Grows Brain Nerve Cells
Ketamine Prevents Suicide
Ketamine Can Stop Depression
Ketamine Can Stop PTSD
Ketamine Can Stop OCD
Ketamine Can Stop Migraines, PAIN, ANXIETY, PTSD
"Reset – Reconnect – Regrow Brain Cells & Restore Brain Health." At Kentuckiana Ketamine Institute
"I tried ketamine to treat my depression. Within a day, I felt relief."
Alice Levitt-Medical Writer and Editor
Individualized KETAMINE THERAPY WORKS extremely well at Kentuckiana Integrative Medicine – Ketamine Institute Depression Treatment Options and Effectiveness.
With our proprietary Ketamine Reset & Restore Formula at Kentuckiana Integrative Medicine, about 75 to 85 percent of patients with severe depression and suicidal thinking respond and recover faster than with any other therapy available including the standard 6 sessions of Ketamine therapy. [Only 6 treatments with few if any side effects after 8 hours.]
With Standard Ketamine Therapy About 65 to 75 percent of patients with severe depression and suicidal thinking who try ketamine treatment say it's effective.
In comparison: With ECT-"Shock Therapy" only 50 to 60 percent of patients respond.
With TMS-Transcranial Magnetic Stimulation only 35-45 percent of patients respond. [Generally requires 30 treatments]
With Antidepressants, only 35 to 48 percent of patients respond and most have unwanted side effects like weight gain, decreased sex drive, fatigue etc. [Takes 2-3 months to work and often multiple medications with limited efficacy.
Nevertheless, for some people, antidepressants have been life-saving.
Global suicide victims in the past 12 months? 986+
Global economic loss due to depression, bipolar, PTSD, anxiety? $1300 billion
Global sales of drugs for depression, bipolar, PTSD, anxiety? $50 billion
"Ketamine, given intravenously, might be the most important breakthrough in antidepressant treatment in decades." – Thomas Insel, Director, National Institute of Mental Health
Stress Kills Brain Cells and causes Brain shrinkage – Disconnected Brain Syndrome – Anxiety Depression etc.
Patient Quotes:
"I have been depressed and anxious since age 10. I have attempted suicide over 6 times. Hospitalized for depression over 20 times. I thought my suffering would never end until I found Ketamine."
"Ketamine somehow stops my demons and severe "stinking thinking" giving me space to rethink my situation."
"Ketamine Therapy is worth far more than 30 years of "talk therapy."
"Ayahuasca and Mushrooms helped me some, but Ketamine saved me. I can handle my emotions in social situations and at work. I am in control of my feelings. The skills I learned at Kentuckiana have had a profound impact on my ability to function." 
You are not alone. Depression affects a significant percentage of the population.
Best way to prevent suicides- Be kind and helpful to those who appear stressed and isolated. That could be you one day in a new city or college.
Our patient, Kevin, at Kentuckiana Integrative Medicine of Jeffersonville near Louisville, KY talks about his long time struggle with depression and how IV Ketamine infusion treatment changed his life.