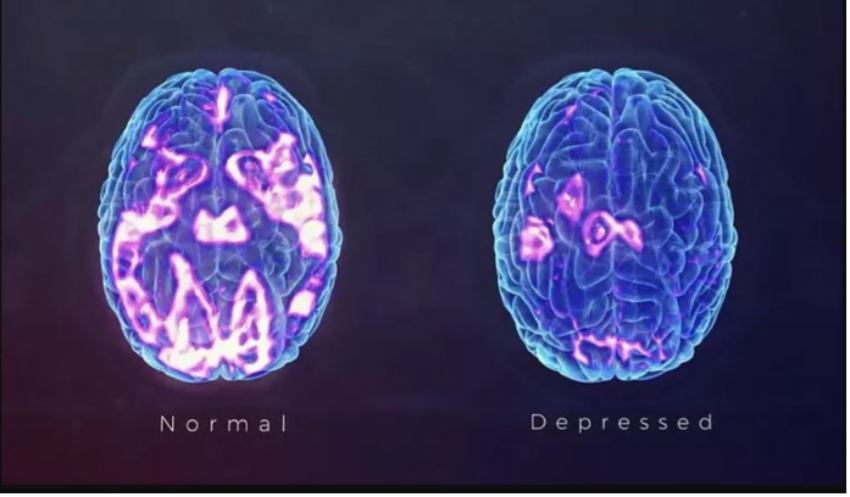 "Kentuckiana MD Brings New Hope to Stroke, Brain Injured, Parkinson's, and Depressed Patients"
---
Disclaimer:
Results variable.
Results NOT guaranteed.
Symptom improvement is NOT guaranteed and guarantees are not made or implied.
Non-FDA approved therapies are not designed to treat, cure or diagnose any particular illness, but rather to support self-healing mechanisms.
Consultation: $400
Evaluation and blood tests are needed before treatment can be approved.
INSURANCE NOT ACCEPTED since these management strategies are considered experimental.
If accepted for treatment cost is $9,000 or $20,000 or $30,000 depending on management strategy recommended-selected.
Website information is for informational purposes ONLY and no healthcare decisions should be made without consulting a physician. Not all treatments discussed are available or approved by Kentuckiana Integrative Medicine. We believe in combining conventional medicine with supportive natural therapies.
Kentuckiana MD Brings New Hope to Stroke, Brain Injured and Depressed Patients
by Dr. Rafael F. Cruz MD [Clinician, Educator, Medical expert and Medical writer]
DISCOVER what is possible at Kentuckiana Integrative Medicine 812-913-4416
It is clear that many if not most neurological disorders are not curable. Furthermore, only FDA approved treatments can in some cases cure a medical condition? The experimental management strategies shared are NOT FDA approved and are not designed to treat, cure and diagnose any particular illness. However, there is no doubt that many symptoms caused by neurological disorders can be dramatically improved, even REVERSED and managed by a combination of conventional medicine, natural medicine and advanced neuro- rehabilitation.
The videos below describe the remarkable symptom improvements of patients suffering from *STROKE, *Traumatic Brain Injury, *Parkinson's, *ALS, *CRPS – Complex Regional Pain Syndrome. Some of these patients responded 20 years after their stroke.
PSE – Peri-Spinal Etanercept is a breakthrough treatment for neurological dysfunction such as stroke and traumatic brain injury developed by Dr. Edward Tobinick MD. The treatment is NOT a cure for stroke or brain injury; however, improved function is often observed. Results are variable and not guaranteed. This article should not be used as evidence that the therapy will work on someone else as there are numerous health factors determining successful response to Peri-spinal etanercept.
While treatment with etarnercept is NOT FDA approved and CANNOT be billed to insurance; it has helped over 4,000 patients worldwide. While the treatment is not well known and remains controversial, it has been repeatedly researched and validated by many patients WITHOUT a double blind study. In fact, TWO federal judges, one in Florida and Judge Samuel D Reyes from California in [case no 2012-222-007 Dr. Gary Reyzin MD vs California Medical Board] both declared that the treatment while not FDA approved was within the standard of care based on a large body of scientific and clinical evidence.
**MORE INFORMATION IS AVAILABLE AFTER THE VIDEO SECTION BELOW**
Discover what is possible at Kentuckiana Integrative Medicine: 
Louis Mieir, 75 year old Retired Mechanic with Parkinson's, Lumbar fusion, Severe Back Pain, Hip Pain, Shuffling gate, Recurrent Falling for 6 months.
60 Minutes New England Teacher with Stroke and expressive aphasia [inability to speak] recovers fluid speech, reading and normal walking
Stroke 8 years later treated Peri-Spinal Etanercept
Stroke 10 years later treated Peri-Spinal Etanercept
Stroke 18 years later treated Peri Spinal
Stroke 2 years later treated Peri-Spinal Etanercept went from wheelchair to walking with improved vision
Stroke 3 years later treated Peri-Spinal Etanercept with return of normal speech, reduced neck pain, improved range of motion of neck
Rapid Recovery after Stroke with Peri-spinal Etanercept
BACK PAIN SCIATICA Treated with Peri-Spinal Etanercept
DEMENTIA-Alzheimer's Psychiatrist Recovers His Memory
There are many more testimonials at www.regenmedky.com and at Dr. Edward Tobinick's website www.strokebreakthrough.com. Over 100 videos with before and after treatment testimonials are available through Dr. Tobinick's website.
We are fortunate to have this treatment available in Kentuckiana [Louisville KY–Jeffersonville IN] thanks to the training Dr. Edward Tobinick MD provided to Dr. Rafael F. Cruz MD from Kentuckiana Integrative Medicine – Kentuckiana Neuro Recovery Center. Dr. Cruz's training is in Emergency Medicine, Anesthesia – Pain Management and Integrative Medicine. He believes in blending the best of both traditional conventional medicine with the best of natural medicine integrating the best therapies from both sides of medicine. These management strategies are available at almost no other medical centers in any neighboring states.
After Dr. Rafael Cruz's father, Dr. Rafael Cruz Sr. suffered a cervical cord spinal stroke due to surgical complications, his father did the standard physical therapy but made modest to little progress. Dr. Cruz Sr. was left with weak hands, arms & legs, and poor balance. Several years later, desperate to find a solution to help his 82 year old father, a formerly active surgeon and tennis player [who retired and played singles tennis at 79 years old], Dr. Cruz learned about Dr. Tobinick's research and success and decided to see if Dr. Tobinick would train him so he could treat his father. Dr. Tobinick agreed.
Weeks later, Dr. Cruz was ready to treat his father. Dr. Cruz's sister, a family doctor in New Jersey, came to Jeffersonville to assist her brother. Before treatment, Dr. Cruz Sr. could not get up from a chair without assistance. He could not climb a staircase without a great deal of assistance and support from both of his children. He could not remember the five words from the pretreatment memory test.
The changes after the injection were truly remarkable. Within 20 minutes after the injection, Dr. Cruz Sr.'s memory was improved as he remembered a few of the five words from the earlier memory word test. Three hours after the injection, he could lift himself out of an arm chair without assistance and he could climb a stair case of 10 steps – very slowly, but without any help. At dinner that evening, Dr. Cruz Sr. remembered all of the five words form the pretreatment memory test. There was no question in either sibling's mind that their father was markedly improved – the changes were undeniable, pronounced, fast and dramatic.
In addition to Perispinal etanercept, Dr. Cruz is able to help patients with a variety of FDA approved and non-approved therapies such as IV Ketamine, IV Magnesium and IV B Vitamin Mega C Meyers cocktail which are helpful with Chronic fatigue, Fibromyalgia, Neuropathic pain, CRPS, OCD, PTSD, Anxiety, Suicidal Thinking, Migraines and Depression. Many treatments improve brain function. Etanercept, Ketamine, B vitamins and Magnesium are helpful to brain function. The images below depict functional brain improvement through the use of Ketamine.
Ketamine stimulates growth of nerves and nerve connections creating enhanced neural pathways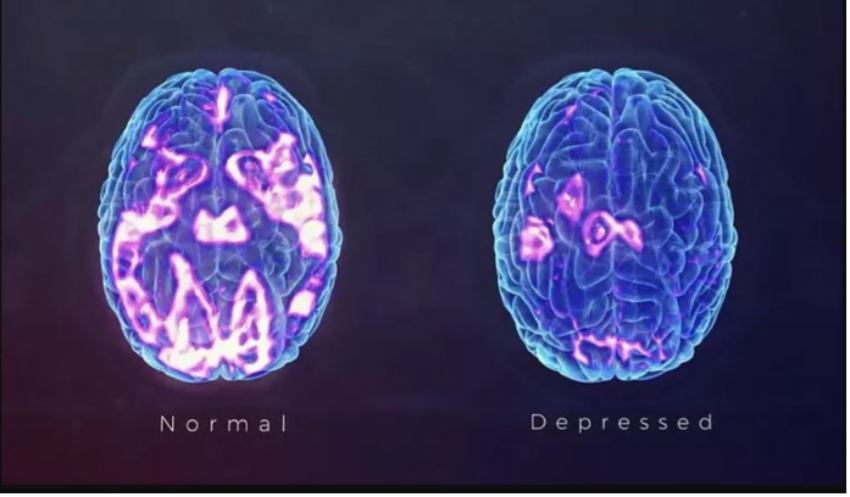 PET scans revealed that ketamine rapidly restored bipolar depressed patients' ability to anticipate pleasurable experiences by boosting activity in the dorsal anterior cingulate cortex (yellow) and related circuitry. Picture shows PET scan data superimposed on anatomical MRI.38
Source: Carlos Zarate, M.D., Experimental Therapeutics and Pathophysiology Branch, NIMH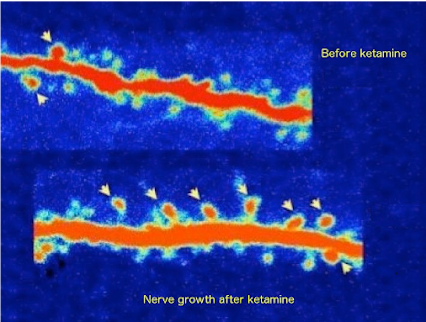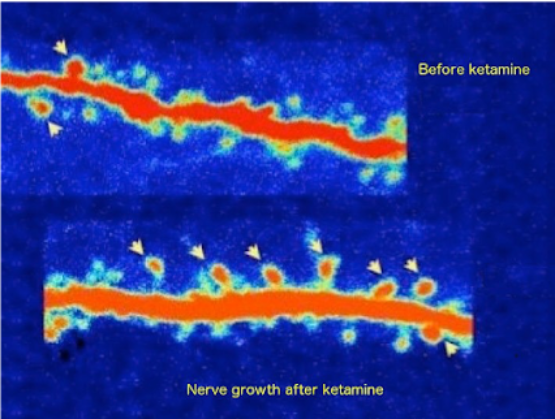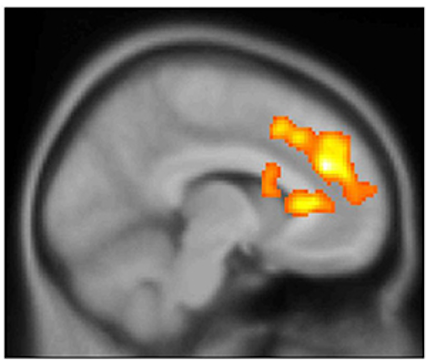 Ketamine, given intravenously, might be the most important breakthrough in antidepressant treatment in decades." Thomas Insel Director, National Institute of Mental Health
"I had come to believe that my depression was a terminal illness. But the so-called party drug [Ketamine] may have saved my life." Alice Levitt-Medical Writer and Editor
Science Masquerading as Magic
"It's magic," said Dr. Rene Alfaro, an ophthalmologist from Mexico, of the single-dose injection that almost instantly restored much of his wife's movement and cognition more than a year after an aneurysm and subsequent stroke incapacitated her left side. "It's like a click."
Within minutes of receiving the injection on Monday, Anna Alfaro walked without a cane, got up from a chair more easily and regained sensation in her left arm. Hours later, when some of her left eye vision returned, she could see the phone clearly enough to dial a number for the first time since her illness.
Her response is not unique.
Louisville resident and successful grocery owner, John Campisano suffered a stroke during his heart bypass surgery. He awoke with expressive aphasia [unable to speak or pronounce words] and very poor balance. Expressive aphasia is a condition in which the patient understands words and pictures, but is unable to pronounce words to express his or her needs or what he or she sees in words and numbers.
Mr. Campisano was first treated by Dr. Tobinick in Florida. His care was later transferred to Dr. Cruz were he consistently responded to his yearly treatments with "my mind is clear," improved speech fluidity, improved word and picture recognition and improved balance. After one of his treatments just before a family Christmas party, Mr. Campisano shocked and delighted his daughter Karen, his brothers and cousins entertaining them with stories from their past. [Note: Mr Campisano presented to Dr. Cruz 20 TWENTY years after his STROKE!!! This means even though conventional medicine believes no improvement is possible 2 years after Stroke or TBI injury; there is hope even 20 YEARS LATER!!!!] His daughter Karen Campisano is our practice manager.
The PSE peri-spinal etanercept treatment consists of a single injection given in the soft tissues of the cervical spine, followed by a short wait of several minutes to allow the medication to get to the brain. That's all it took for hundreds of stroke and traumatic brain injury patients from South Florida and nationwide to reverse years of debilitation. Now they are walking more steadily, reading more easily, concentrating better, speaking more clearly and regaining use of once-rigid limbs – long after giving up hope that their bodies would ever respond.
The medicine in the 25-milligram injection that provides renewed independence is etanercept [a rheumatoid arthritis medication sold under the brand name Enbrel among others]. It is the brainchild of Boca Raton, Fla., physician Dr. Edward Tobinick. His patented method for delivering the anti-inflammatory medicine, etanercept to the brain is getting praise around the world [particularly Australia, New Zealand, Europe and the USA] as a "radical breakthrough" in the treatment of chronic neurological dysfunction.
In a peer-reviewed study published Dec. 1 in the Adis medical journal, "CNS Drugs," Tobinick's Institute of Neurological Recovery gave etanercept injections from November 2010 to July 2012 to 617 stroke patients and 12 patients who had suffered a traumatic brain injury, or TBI.
According to Dr. Tobinick's research, of the total patients studied, more than 80 percent saw improvements in their ability to walk; more than 80 percent had less spasticity; and more than 85 percent exhibited improved motor function.
This is an impressive treatment response rate because it means that out 629 patients; 503 patients saw improvements!.
Improvements also were recorded in many patients' range of motion, pain and cognition, as well as their ability to speak, see, swallow, concentrate and maintain bowel control.
Note with all of the above success, there are an approximate 20% of patients who receive NO benefit at all from this therapy so patients and family must accept the very real possibility that they may not improve.
Hollywood, Fla., resident Jennifer Cody said the treatment gave her 59-year-old father, a former outdoor maintenance man, renewed independence 18 years after his stroke.
"Within five minutes, her father was saying how clear his head was," Cody said. "It had always been so cloudy."
Now her father talks without slowed speech, he's confident enough to drive on the highway, he can roll down the window in his car, and he no longer drags his left leg behind him.
"He does one-legged squats now," [18 YEARS AFTER A STROKE] Cody said, with a laugh. "For them to be able to do something like that for someone who had a stroke (so many) years ago, it's incredible. I'm telling everyone I know."
Though most people are satisfied after a single dose, Tobinick said he recommends a second shot after one month if patients saw some improvement but wanted more. About a quarter of his patients, including Cody's father, choose the second shot.
The benefits reportedly are long-lasting. Tobinick said the first patients treated in November 2010 continue to enjoy improved mobility and cognition.
"These results represent a sea change in the therapeutic possibilities for stroke and TBI patients," Steven Ralph, associate professor at Griffith University School of Medical Science in Australia, said in an article produced by Adis' parent company, Springer Science + Business Media. "Rarely do we see such a radical breakthrough in medical treatment as this for stroke."
Tobinick's research – published in numerous scientific and medical journals around the world – has found that this therapeutic technique is also beneficial for treating sciatica and Alzheimer's disease.
"It's for neurological inflammation," said Tobinick, a board-certified internal medicine physician who has used his treatment method on more than 4,000 patients for various conditions. "We're doing this every day of the week."
Etanercept – better known by its brand name Enbrel – has proven effective in neutralizing TNF – Tumor Necrosis Factor, the chemical that causes inflammation in the body, and has Food and Drug Administration approval for treating rheumatoid arthritis and psoriasis.
What makes this therapy revolutionary is Tobinick's discovery of a way to deliver the medicine to the brain, counteracting for the first time diseases and injuries beset by neurological inflammation. Tobinick found that by injecting the medicine at the back of the neck, then dipping the patient backward at a 45-degree angle for as little as five minutes, the medication enters the brain and spinal area through the cerebrospinal venous system and instantly fights the inflammation.
Enbrel's makers warn of side effects from continued use, including headaches, upper respiratory infection and, in severe cases, immune system impairment, risk of cancer, heart failure and blood and nervous system problems. But stroke and TBI patients undergoing Tobinick's therapy are receiving only one, maybe two, doses of etanercept, the doctor said, so it is rare for his patients to see side effects.
Because the therapy's "off-label" use of etanercept is not FDA-approved, this treatment is not covered by Medicare or other insurance plans.
Tobinick thinks Enbrel's makers should use his research to seek expanded FDA approval, so the treatment can be more affordable and accessible.
"Without an operating room, without anesthesia, (we're) delivering medicine to the brain," said Tobinick, who has been training doctors from around the world in his technique. "This changes somebody's life. They can do things they couldn't do before."
For Lantana, Fla., resident Martha Levine, 88, it meant being able to feed herself again. More than THREE years after a stroke left the retired clinical social worker with a severely weakened left side, she went to the Institute of Neurological Recovery in January for an etanercept injection.
Martha's gait-ability to walk- immediately grew steadier and quicker, and she was able to think more quickly and clearly, said her husband, Irvin Levine.
Still dependent on a walker and, sometimes, a wheelchair, her improvements were important but not dramatic, her husband said.
"When you stop to think she had nothing before and she's a little better now, to us, it was a big difference," he said. "Even though it's slight, we're thankful for it."
At the Institute of Neurological Recovery's Boca Raton offices on a recent Monday, Anna Alfaro's quick, dramatic improvements had her husband in tears. The couple, with their 13-year-old son in tow, flew in seeking a glimmer of hope after doctors in Mexico City had assured them nothing more could be done for her.
"The real important thing is the daily things, the simple things," said Anna Alfaro, who had been dependent on a cane and no longer able to manage her husband's glaucoma diagnostic center. "For me, this is the difference in my life. I'm going back to work."
Who Is A Candidate For Treatment?
The vast majority of stroke and traumatic brain injury survivors living at home or in a rehab center are candidates for the etanercept therapy. The best patients are those with some residual function in their mobility and cognition, though Dr. Tobinick has successfully treated a few quadriplegics.
Patients who would NOT qualify for treatments are PATIENTS DIAGNOSED WITH:
Active cancer
Bleeding Disorder
Blood Disorder-
Lymphoma
Active Current Congestive
Heart Failure Symptoms
Lewy Body Dementia
Multiple Sclerosis, Optic
Neuritis or other
Demyelinating Disorders
Active Tuberculosis (Those with a history of +PPD test or history of Tuberculosis may still be candidates if properly treated and have a normal Quantiferon Gold Test)
Severe immune suppression with organ transplant medications
Uncontrolled diabetes
HIV
Syphilis
Hepatitis
Hospitalized patients NOT yet discharged
Comatose patients
Consultation: $400.
INSURANCE NOT ACCEPTED since these management strategies are considered experimental.
If accepted for treatment cost is $9,000 or $20,000 or $30,000 depending on management strategy recommended-selected.
Those interested will want to submit records to kimregenmed@gmail.com with most recent notes from treating family doctor, treating neurologist or treating neurosurgeon, written reports of all labs, MRI scans, CT scans, List of diagnosis, current list of medication and supplement allergies, current list of medications and supplements. Patients will require new blood work to screen for immune suppression, uncontrolled diabetes, anemia, abnormal liver function, abnormal kidney function, Hepatitis, HIV, RPR consisting of CBC, CMP, HA1C, Quantiferon Gold etc. If you email information, you should know it could be discovered by others [not 100% secure] and you should call office if you email information.
Testing can be conveniently obtained from Labcorp or Quest.
For more information, contact Kentuckiana Integrative Medicine-Kentuckiana Neuro Recovery Center at 812-913-4416 located next to Louisville, KY at 405 East Court Av. Jeffersonville, IN 47130 or go to www.regenmedky.com or www.strokebreakthrough.com.
Karen Campisano Manager: Kimregenmedky@gmail.com
Innovative Treatment for Stroke & Traumatic Brain Injury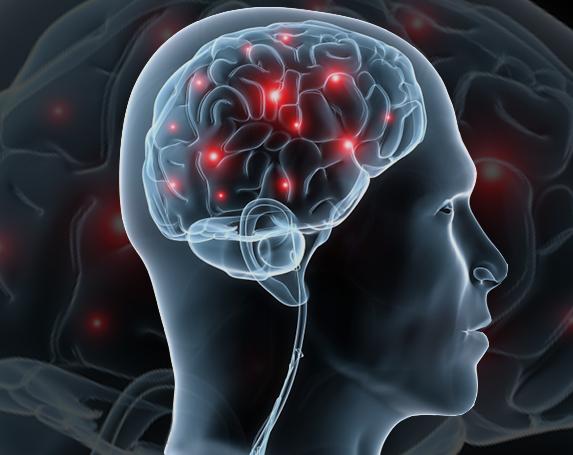 Peri-Spinal Etanercept transforms lives from dysfunctional to functional. To see what is possible review the many videos shown below. Follow the links below to see the amazing recoveries that occur minutes after the injection even in patients with little to no function 10-20 years after their stroke or brain injury:
Stroke: WATCH VIDEOS
Stroke: WATCH VIDEOS
Back Pain: WATCH VIDEOS
Alzheimer's: WATCH VIDEOS
Most patients and physicians believe that after a stroke or traumatic brain injury, patients will NOT recover any new brain or neurological function after 2 years from the date of their original injury. While it is true most patients DO NOT develop any new brain or neurological function after two years, there are innovative therapies for Stroke, Traumatic Brain Injury [TBI], Alzheimers Dementia and Intractable Spine Pain that are restoring function and have transformed the treatment of these patient's injuries.
Peri-Spinal Etanercept is changing lives from hopeless to hopeful! Now patient's who are even 10-20 years past their injury are recovering a tremendous amount of brain, neurological and or nervous system function. Peri-Spinal Etanercept was developed by Dr. Ed Tobinick who has transformed treatment of brain injury and strike worldwide.
In spite of great controversy, through Dr. Tobinick's pioneering efforts a federal judge in Florida and one in California declared that Peri-Spinal Etanercept is within the standard of care. Results vary from spectacular or miraculous to no response or benefit. When patients respond to these treatments, they respond within minutes and or over 24-48 hours. Function, memory, vision, strength, mood and balance frequently improve very quickly.
These treatments are offered by very few physicians across the country. Dr. Rafael Cruz was fortunate enough to train with the inventor of these patented treatments. Dr. Cruz is now offering all of these therapies at Kentuckiana Integrative Medicine. Call 812-913-4416 or 812-282-1575 for a consultation.
Disclaimer: Individual results vary, not all patients respond. Additional doses may be necessary to maintain the clinical response. Treatment for these indications is innovative ("off-label" and not FDA approved)
Here's What To Do Next
Call 812-913-4416 or 812-282-1575 to schedule a consultation.
Complete lab work at either Quest or Lab Corps.  DOWNLOAD LAB REQUEST
Complete the patient information/history form. COMPLETE INTAKE FORM HERE